写作考查题型:
1.校级初赛(全国统一线上初赛):比赛题型为基于特定情境的议论文写作1篇(300—400词)、说明文写作1篇(300—400词),写作时间共120分钟,满分100分。
2.省级复赛:比赛题型为基于特定情境的议论文写作1篇(400—600词)、说明文写作1篇(300—500词),写作时间共120分钟,满分100分。
3.全国决赛:比赛题型为基于特定情境的议论文写作1篇(700—900词)、记叙文写作1篇(700—900词),写作时间共180分钟,满分100分。
注:本样题仅供了解题型,不提供参考答案。
类型1 议论文写作(Argumentative writing)
比赛内容:选手完成一篇议论文写作。侧重考查选手对现象、观点、言行等的分析、评价、论述能力。
评分标准(总分50分):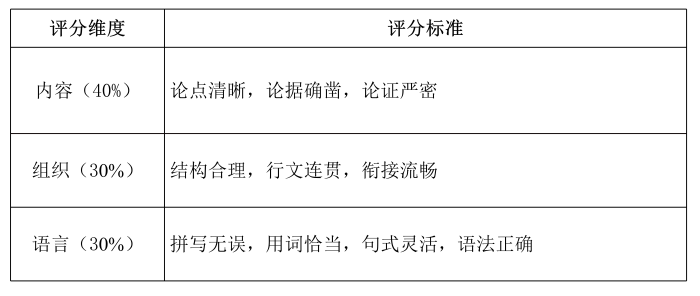 Sample task 1
You happened to see a post by an international student Jennifer Carlson sharing her travel experience on the social media of your university, which was commented on by another international student Jack Brown: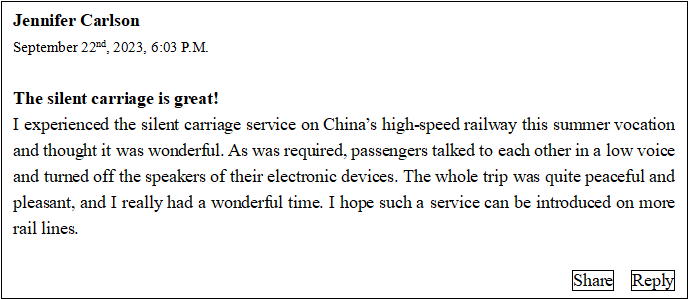 Write your opinions about the contradictory views on the silent carriage service with reasons and examples. You should write between 300 and 400 words.
类型2 说明文写作(Expository writing)
比赛内容:选手完成一篇说明文写作。侧重考查选手对事物、现象、图表信息等的解释及阐述能力。

评分标准(总分50分):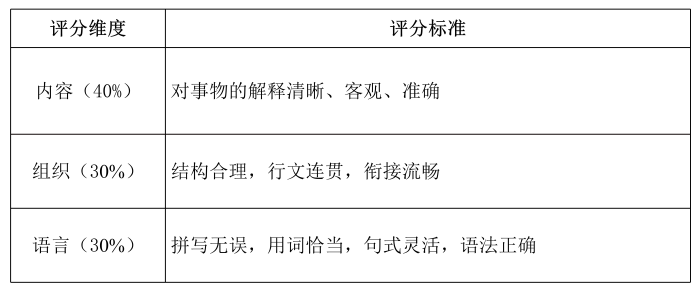 Sample task 2
In the middle of this semester, your university will host "Global Culture Festival", an annual event, and the English website of the event is calling for an article to introduce China's 24 solar terms for the China page. The article should be between 300 and 400 words and cover the following aspects:
1) The meaning of the 24 solar terms for the Chinese people
2) Your favorite term and the reason(s) why it stands out for you
3) The traditional culture behind your favorite term and the custom(s) in relation to it
You are supposed to write and submit your article to the website editor.
Sample task 3
As an intern at an international agricultural development agency, you are asked to write a report based on the following chart on food insecurity published by the Food and Agriculture Organization (FAO). The objective of the report is to summarize the information presented in the chart by selecting and reporting the main features and making relevant comparisons wherever necessary and possible. Your report should be between 300 and 400 words.
Percentage of the World Population Experiencing Food Insecurity
at Moderate and Severe Level, 2018-2020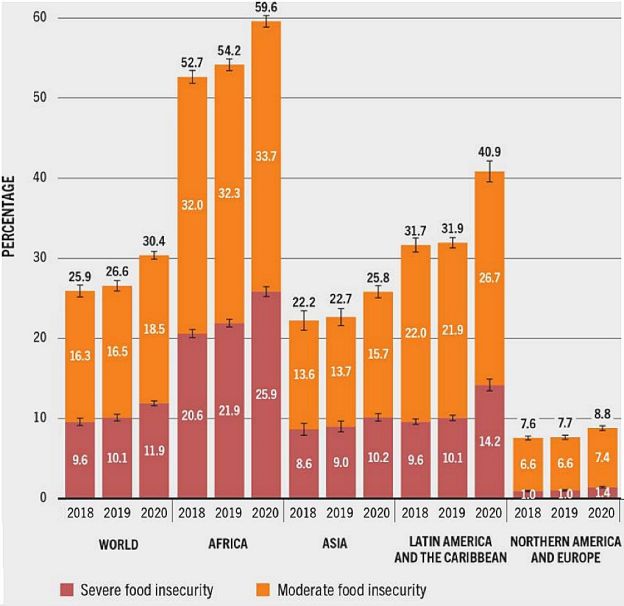 Source: "The State of Food Security and Nutrition in the World 2021" released by the FAO.
Notes:
1. Moderate food insecurity is typically associated with the inability to regularly eat healthy, balanced diets; severe food insecurity implies a high probability of reduced food intake and therefore can lead to more severe forms of undernutrition, including hunger.
2. Differences in totals are due to rounding of figures to the nearest decimal point (四舍五入).
类型3 记叙文写作(Narrative writing)
比赛内容:选手完成一篇记叙文写作。侧重考查选手对人物、事件等的描写、叙述能力,以及形象思维和创意写作能力。
评分标准(总分50分):

Sample task 4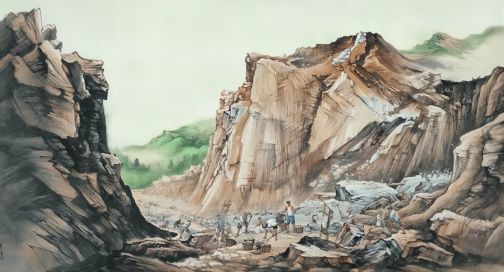 The famous ancient Chinese fable Yugong Yi Shan (Mr. Fool Who Moved the Mountains) tells the story of Yugong, who worked with his sons and grandsons in his 90s, trying to remove two huge mountains blocking their way. Shovel by shovel, year after year, their hard work touched the Ruler of Heaven and he helped take away the mountains. The fable extolling the virtues of perseverance in the face of tremendous adversity has endured the test of time.
Write a new story set in modern times using the ideas implied in the fable of Yugong Yi Shan. Choose a title for your composition and write between 700 and 900 words.